What is Gleaning?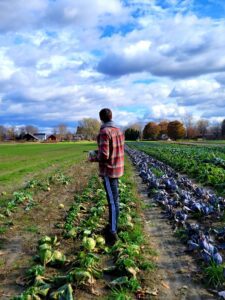 Gleaning is the practice of gathering grain or produce after harvest. While peoples throughout history have had culturally-specific practices for distributing food equitably, our approach to gleaning has its roots in Torah:
"Now when you reap the harvest of your land, you shall not reap to the very corners of your field, nor shall you gather the gleanings of your harvest. Nor shall you glean your vineyard, nor shall you gather the fallen fruit of your vineyard; you shall leave them for the needy and for the stranger. I am the Lord your God."  – Leviticus 19: 9-10
Anyone can be a gleaner! Whether gleaning for your family or neighbors, for donation to a Rachel's Table agency, or as part of a mutual aid network, Rachel's Table welcomes anyone who wants to glean together.
Learn more about Rachel's Table's approach and gleaning stats in this StoryMap created by Smith College students.

Why don't farmers harvest and sell the produce themselves?
Farmers often grow more than they can sell to ensure they will have enough for their customers. Additionally, farmers cannot sell some produce because of imperfect appearances (small, misshapen, scarred). This surplus food gets tilled back into the earth, which helps build soil but does not directly help to feed people.
How does Gleaning work?
Rachel's Table gleans in several ways:
County-wide Glean Teams harvest on a weekly basis from the same one or two farms and deliver to the same agencies each week. This style of gleaning provides reliability for agencies so they can more effectively plan, and for agency constituents so they have a regular source of fruits and vegetables.
Educational gleans (e.g. college students, interfaith groups) engage people who are eager to learn about food system issues and get involved in local solutions. Groups identify and discuss key issues surrounding food insecurity as well as harvest and deliver produce to a nearby agency.
Pop-up gleans occur with little notice (generally 1-2 days) as a result of farmers outside of our regular schedule contacting us about gleanable fields.
Agency gleans provide another outlet for people directly impacted by food insecurity to participate in harvesting food for themselves, their families, and their communities.
Check our Events Calendar for up-to-date gleaning opportunities.


Ready to get out and glean?! Sign up for our Gleaning Email List HERE or register for a glean HERE.
To schedule an educational or agency glean, or if you are a grower with food you'd like for us to glean, contact Cara at csilverberg@feedwma.org.