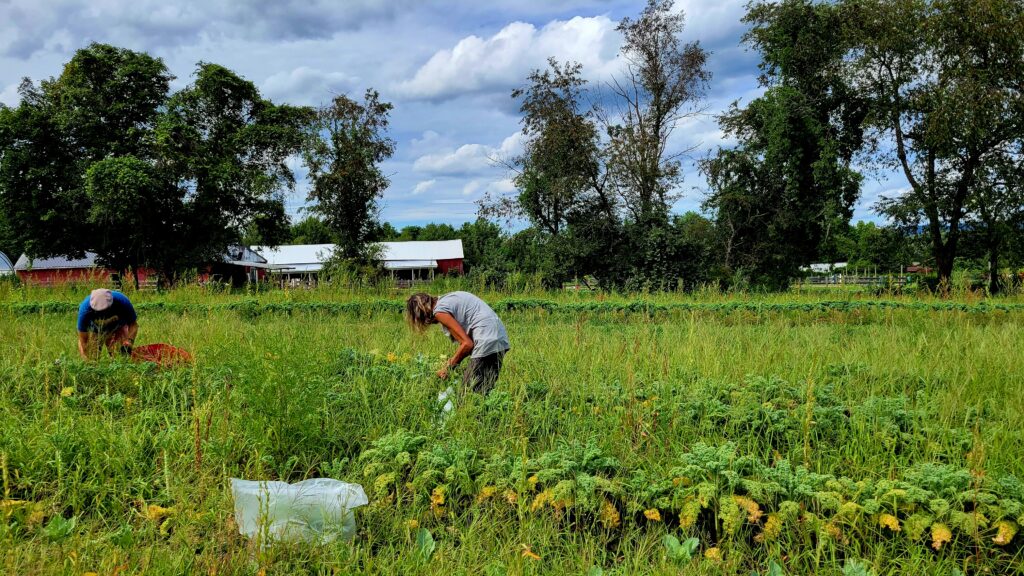 Supporting and Nurturing Local Farms
by Cara Michelle Silverberg, Director of Intercultural Learning & Land-Based Programs
Setting The Context:
Small-scale farmers are at the forefront of our food systems, offering nourishing, diverse, locally grown produce. Yet farmers in Massachusetts face enormous obstacles – particularly small-scale, organic, and sustainable farmers. Farming is often unprofitable because of soaring real estate values and other economic factors such as farm subsidies for cash crop farmers. Young farmers are scarce, and new farmers face daunting barriers to land access. Massachusetts ranks ninth among states threatened by factors like low agricultural productivity, an aging farming population, and the conversion of farmland into urban and residential areas (American Farmland Trust). Meanwhile, converted farmland and methane emissions from crop waste (upwards of 30% of crops annually) contribute to climate change. The compounding effects of a pandemic, increased asylee and refugee populations, and inflation are driving up food insecurity rates in local communities. Thankfully, we can rally together to support farmers and people impacted by food insecurity through a web of interrelated policy changes and personal choices.
Understanding Environmental Challenges
Every farmer must contend with unexpected weather and economic events. Consider these recent examples:
Evolving Seasons: Milder winters, earlier Springs, and sporadic frosts make planning, planting, and harvesting increasingly difficult, leading to crop losses. Easy Pickins in Enfield, CT – one of Rachel's Table's primary gleaning partners – has very few apples this year due to the May 18 frost that killed most apple blossoms in their orchard.
Drought and Flooding: Irregular rainfall can create water shortages at key moments of the growing season. Flooding and oversaturation (as occurred this summer) results in rot, mold, and pathogens carried by rivers overflowing their banks. Brookfield Farm and Atlas Farm (Rachel's Table gleaning and food rescue partners) have lost major portions of their crops this year due to exceptionally heavy rains. Sadly, Brookfield Farm lost 100% of their watermelon crop and 95% of their winter squash.
Extreme or Unusual Temperatures: Sufficient cooling is required for crop storage. Brookfield Farm has a root cellar that was built using passive cooling; it rarely gets cold enough anymore because average Fall temperatures are increasing.
Pests and Diseases: Higher average summer temperatures, especially combined with extreme rain events, create favorable conditions for pests and diseases, threatening crop health.
Limited Resources: Small farmers often operate with fewer resources and less access to advanced technology, making adapting to dramatic events more challenging. Trade tariffs and stunted local economies can cyclically exacerbate these issues. For example, machine replacement parts are extremely hard to get or prohibitively expensive.
The Role of the Farm Bill:
Farmers can more effectively bolster themselves against challenging events and trends if the overarching economic system surrounding them enables preparation for and response to such fluctuations. The U.S. Farm Bill, which is renewed and revised every five years – and is up for renewal this Fall – plays a pivotal role in supporting farms and addressing food security. Here are some changes to the Farm Bill that could make a positive difference for small farmers:
Focus funding for research on practices that can help small farms adapt to changing conditions.
Reform crop insurance programs so they better cater to the needs of small-scale farmers. Currently only 17% of crop insurance funding goes to small farmers, while 83% goes to large agribusiness (corn, soybeans, wheat, cotton, rice) crops that serve as the foundation of a food system built on processed food, with negative impacts on human and land health.
Provide incentives for sustainable and regenerative farming. Most farmers are simply trying to feed their families through honorable work. If there is funding and training for farmers to transition out of conventional and cash crop agriculture, more farmers will pursue practices that foster land and human health.
Invest in rural infrastructure such as improved roads, bridges, and storage facilities. These investments will enhance the efficiency of small farm operations.
Increase access to affordable credit and loans, specifically designed to assist small farmers in their efforts to adapt.
Promote policies that help people impacted by food insecurity access local food. One example, GusNIP is a federal program that builds upon HIP (Healthy Incentives Program) to help even more people "double their dollars" when they spend SNAP benefits at local farm stores and markets. Better implementation of GusNIP and HIP could mitigate President Biden's February 2023 reduction in SNAP (Supplemental Nutrition Assistance Program) funding while simultaneously developing markets for local farms.
Be a Local Farm Advocate
There are so many ways to support local farmers!
Educate Yourself:
Participate in Farming Workshops and Events: Attend workshops, county fairs, and agricultural events in your area. These gatherings provide opportunities to learn more about farming practices and connect with local farmers.
Attend Community Meetings: Go to community meetings and town halls where agricultural issues are discussed. Listen to people's stories and follow up to learn more.
Stay Informed: Keep up to date with developments in Massachusetts agriculture by subscribing to newsletters and following local farm organizations like New England Small Farm Institute, Communities Involved in Sustaining Agriculture (CISA) or Northeast Organic Farming Association MA Chapter.
Use Your Voice:
Support Legislation: The Farm Bill is up for renewal at the end of September 2023, so there is still time to contact your state legislators or the U.S. Senate Committee on Agriculture, Nutrition and Forestry. Let them know what's important to you!
Encourage Land Conservation: Preserving open spaces is vital for the future of farming. Advocate for land conservation efforts that protect agricultural lands from development – such as the Massachusetts' Agricultural Preservation Restriction (APR) program.
Engage With Local Government: Engage with your local government to promote farmer-friendly policies. Encourage zoning regulations that allow for small-scale agriculture, especially in residential areas.
Advocate for Farm-to-School Programs: Farm-to-school initiatives help connect schools with local farmers, providing fresh, nutritious food to students while supporting local agriculture.
Write Letters and Opinion Pieces: Share your views with a broader audience by writing letters to the editor of your local newspaper or contributing opinion pieces about the importance of supporting small farms.
Use Your Skills:
Volunteer: Many small farms welcome volunteers. Offer your time and skills to help with weeding, harvesting, or non-physical tasks like marketing. Volunteering is an excellent way to connect with local farmers and gain firsthand experience of the challenges they face.
Educate Yourself and Others: Learn about the challenges farmers face and the benefits of supporting local agriculture. Share this knowledge with friends, family, and your community to build a broader base of support for local farms.
Use Your Dollars:
Buy Local: One of the most direct ways to support small farmers is by purchasing their products. Visit local farmers' markets, join community-supported agriculture (CSA) programs, and seek out farm stands and local food co-ops. Buying local helps small farmers access reliable markets for their produce, and it tends to taste better too!
Donate: Contribute to individual farms or farm relief funds.
Local farmers are the backbone of our communities, providing us with fresh, sustainable, and nutritious food. They face mounting challenges in adapting to shifting environmental conditions. By becoming advocates for changes in the U.S. Farm Bill and other relevant policies, we can stand by small-scale farmers, ensure a resilient food system, and secure a nourishing future for all. Afterall, there is no food security without local farms!
Sources:
PRIMER: Agriculture Subsidies and Their Influence on the Composition of U.S. Food Supply and Consumption – AAF (americanactionforum.org)
AGO-2020Census-rev3-web.pdf (nationalgleaningproject.org)